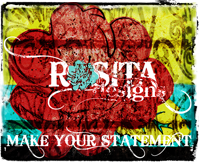 Remember back in November when I told you about Auntie Rosita's
website
? Well today I am going to shamelessly plug it again.
Auntie Rosita
does ALL of our card designing. We had a lot of stationary needs for our wedding...a lot of different invitations: wedding, rehearsal dinner, bridal luncheon, bachelorette party and
Auntie Rosita
made them all. Every year she custom designs our Christmas card and when our little bundle arrived, she made her announcement. All of them as unique as the next. I love her stuff because I couldn't find it anywhere in a store and she works with me to make sure it's exactly what I want.
But why are you listening to me, go see for yourself.