Sweet P is 18 months old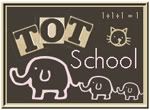 Last week I came across this blog (
1+1+1=1
) and Tot School. I loved all of the ideas from all the moms of tots and decided we'd start documenting our "schooling" as well. I also "borrowed" some ideas from those mommies (especially the sensory activity I saw on various blogs). I can't remember where each came from so thank you to all of those fabulous ideas for my tot! I also decided this would be a great way to show the aunties and grandmas what she's been up to since there are so many pictures.
Here are a few things we did this week:
Sensory bowl: lima beans, black eyed peas, pieces from the game Left, Center, Right, an old earring with the sharp pieces detached, 2 magnets (an apple and a flower). There's also a hook from my shower curtain (I was in the midst of washing and rehanging the curtain and she picked it up so it got thrown in the mix). She loved digging through the bowl. Then I added a bigger one and a smaller one for her to fill up the scoop and dump into.
Farm puzzle: I bought this last week (along with that awesome wooden table she's sitting at in the picture) at a consignment sale at a local church. She loves finding out what animals are behind the doors and making animal noises.
Fisher Price "Let's Get Moving" lift the flap book: She loves this book and there are SO many things to look at and see behind the flaps. It's a great book to take to church (for obvious reasons).
Pumpkin/Cat coloring sheet: She actually colored a bit on the paper before deciding she just wanted to put all the crayons back in the box.
Colors Flashcards: This is my sad attempt at laminating these color cards from
Confessions of a Homeschooler
. I clearly had no idea what I was doing. BUT! I fixed them all and I am now quite aware how to laminate, thank you very much. And am hoping to buy (or receive) a laminator for Christmas.
Magnetic Paper Dolls: I'm not quite sure where these came from since Mama Mary bought them for Sweet P to play with at Auntie M's wedding. The website on the side says Lee Publications. Anyway, Sweet P loves these even though she doesn't quite understand where to put the pants and shirts. I have to take it away every so often because she'll put pieces in her mouth, but she loves to put the hat on her head and cover the dolls in clothes.
That's a little bit of what we've been up to this week. I also made
bean bags
for Sweet P. Since I'm not super crafty, you can trust me that it was super easy (I did use a sewing machine). I'm also hoping to make
these
for Sweet P in the near future and we start learning to count. I'll be making numbers and no, I will not be quilting them (because I have NO idea how!).