Sweet P is 18 months old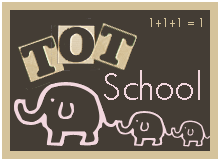 Here's what we've been up to this week:
Playing in the garden: A month or so ago, the Farmer and I built raised garden beds for next spring. Sweet P thinks they are her very own dirt boxes. Needless to say, we've spent a lot of time lately outside with some beach toys (and some kid cooking tools) playing in the dirt. Luckily, we have had some pretty good days of weather lately.
Books: We checked out a few fall related books from the library. Here is she is reading
"I Can Be Anything" by Jerry Spinelli
. It's a great book with a lot of different things to point at. She, of course, looooves the balloons. We also did a lot more reading of our Fisher Price "Let's Get Moving" book.
Other books:
Nature walks: The weather has been nice enough to do a few of these this week, too! The Farmer took her on Sunday and these pics are from last Monday. She loves tractors and liked getting to see one up close.
Baggies: Sweet P's new favorite activity is to pull everything out from under the sink and all the sandwich baggies out of their box. Here she is helping me stuff them back in.
Sidewalk Chalk: ALWAYS a hit with this kiddo.
Playing with puzzles and color sheets from Confessions of a Homeschooler: She's not totally into listening to me tell her colors, yet. She just calls everything "boo" for blue. She's also only mildly interested in the puzzles. Once she gets one together she's excited, but loses interest preeetty fast. I'll keep showing them to her so see if she gains any interest.
Leaf Art: We collected leaves from the backyard and pasted them with a glue stick to an orange piece of construction paper. She really liked pushing them down onto the paper.
Stickers from Auntie RoRo (Rosita): We haven't played with stickers in awhile so it was fun to see her actually stick them to the paper! She did a great job! Thanks for the stickers, RoRo!
Melissa & Doug puzzle: Gammie got this for Sweet P over the summer and I'm embarrassed to say that I only just now remembered to buy AAA batteries for it! She is WAY more into it now that it makes noise when you put the animals in their spots.
More playing outside in the dirt and stomping through leaves with mom: She also desperately wanted to follow the Farmer around while he mowed the lawn, which we all know is not the best idea.
That's a little of what we've been doing this week! What have you been up to this week?