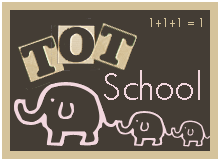 Sweet P is 23 mos
She didn't technically turn 23 months until Saturday, but that's the title anyway. We didn't do much by way of theme this week because we were out and about most mornings, but here was our week!
Monday:
AM: Open play at an indoor playground. After visiting twice this week, she LOVES slides!
PM: Our friend L came over to play after Sweet P's nap.
Tuesday:
AM: Mall walk and play area with friends. Butcher paper painting after lunch!
For this, I just got out a roll of butcher paper and cut off a long piece. I taped it to the kitchen floor and let her go to town. Even mommy got dirty!
PM: I traded out her upstairs toys for some in the basement. I brought up magnetic letters, pom pons, bottle caps, dice and stamps.
She's doing great with letters and can name most capital letters by sight. There are about 4 that trip her up.
Wednesday:
AM: Playdate at H's house with other friends. Sweet P LOVES H!
PM: Sorting pom pons and reading books (two favs: Fancy Nancy, Way Up High in a Tall Green Tree). We also got a package from Gammie with lots of clothes so she tried them all. She is too funny with new shoes. She didn't want to take them off!
We also went on a walk to the duck pond by our house. We took the walking path through the cemetery (not nearly as creepy as it sounds) and visited the geese and ducks there! She also collected "ponies" (pinecones) and acorns on the way. She's a little naturalist!
Thursday:
AM: Another day at the indoor playground plus lunch with friends. More sliding like a big girl! And more pom pon play at home!
PM: Another package from Gammie brought Easter stickers! She loved the cross stickers. She colored a pink rainbow leftover from St Patrick's Day stuff and put some stickers on it, too.
We went for a walk at Gray's Lake in the afternoon and went around twice. She did such a good job even though she was mad we didn't stop at the playground. We saw lots of dogs, bicycles and a guy on a skateboard!
Friday:
AM: I watched my friend K's daughter L and we all had a ball! I took the girls to the zoo and we played at the house, too.
PM: We went grocery shopping in the afternoon after her nap and believe it or not that took up our whole afternoon! We got home in time for dinner!
Saturday:
AM: Sweet P and I visited the Natural Living Expo and learned some neat things. We visited Gray's Lake again and walked around once, went to the playground and had a picnic!
PM: Gammie got Sweet P this nationality puzzle. It's similar to the Melissa and Doug Emotion Bear puzzle. She really likes this puzzle and has a fun time with it. She also colored in a coloring book we got from the expo. We took another walk to the playground 1/2 a mile from our house and rode her Strider bike on the bike path in front of our house.
Sunday:
AM: Sweet P and I took another walk to the duck pond to see the geese. When the Farmer got home from the farm we went to a park and had another picnic! (Can you tell we're lovin' this warm weather?)
PM: We walked to church and she got to play for a few minutes at the playground afterward.
We had a great week last week. Lots of outside play and playground play. Check out what other moms of tots are doing at
1+1+1=1
.