A few weeks ago we began Family Bible Time on Sunday nights. We'd tried this previously, but didn't really have much structure. We don't really have much structure now, but the Farmer and I alternate on who comes up with the scripture and activity for the night. Our activities are simple and the verses are pretty short because Sweet P is at an age where she loses interest quickly if there aren't pictures to look at!
Making the activity as applicable as possible helps her better understand what we read and actively participate in the Bible time. Here is what we did last weekend:
The Reading:
The Armor of God: Ephesians 6:10-17
10
Finally, be strong in the Lord and in his mighty power.
11
Put on the full armor of God, so that you can take your stand against the devil's schemes.
12
For our struggle is not against flesh and blood, but against the rulers, against the authorities, against the powers of this dark world and against the spiritual forces of evil in the heavenly realms.
13
Therefore put on the full armor of God, so that when the day of evil comes, you may be able to stand your ground, and after you have done everything, to stand.
14
Stand firm then, with the belt of truth buckled around your waist, with the breastplate of righteousness in place,
15
and with your feet fitted with the readiness that comes from the gospel of peace.
16
In addition to all this, take up the shield of faith, with which you can extinguish all the flaming arrows of the evil one.
17
Take the helmet of salvation and the sword of the Spirit, which is the word of God.
The Activity:
While Sweet P and the Farmer went to the playground I gathered everything we'd need for the activity and made a shield. Here is what we used as our props:
Belt of Truth: a super cool belt I saved that resides in Sweet P's dress up box
Breastplate of Righteousness: her vest put on backward
Boots of Readiness: cowboy boots
Shield of Faith: a shield I made out of cardboard, paper, paint and some stickers
Helmet of Salvation: her bicycle helmet
Sword of the Spirit/Word of God: a Spanish Bible (because she loves it!)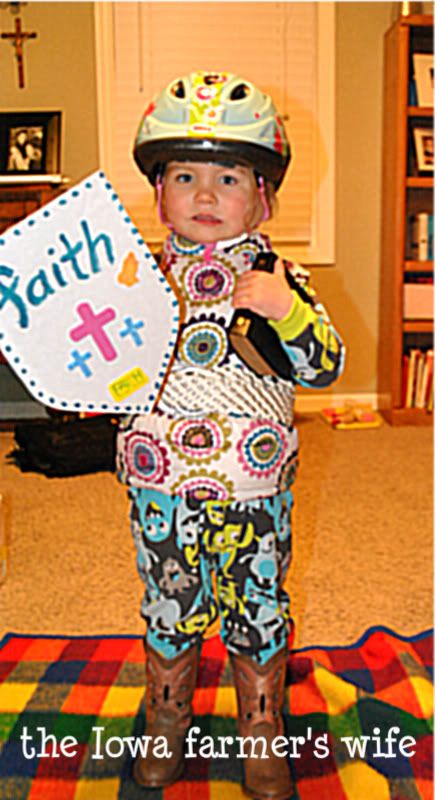 The Farmer read the passage, pausing after each section while I helped Sweet P put on each item. We talked about each item and she thought it was pretty neat. It didn't stay on long though, she was ready to take it off after she finished looking at her Spanish Bible (this is the Farmer's, but Sweet P is really attached to it for some reason!).