As I mentioned in our Bathing Baby Blue post, we have been encouraging Sweet P to do more of her day to day routine on her own. She LOVES to help prepare meals and pulls her chair over to help me make things like pancakes, granola, muffins and anything else that doesn't involve a burner.
At breakfast I've started putting her food into smaller containers so that she can create her meal on her own. The meal below is granola in a measuring cup with a handle, soymilk in a pitcher, and blueberries and almonds in stainless steel bowls. I almost explained the order to her, but then decided to let her figure it out on her own because does it really matter if she puts the milk in before the blueberries? Nope.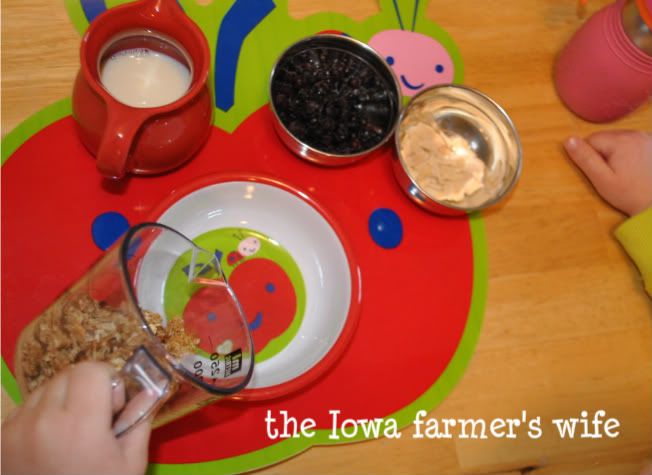 She loves getting to do this on her own and at the end of her meal she brings each item to the sink (usually one at a time). Sure it dirties up more dishes, but the joy on her face as she prepares her own meal is worth a few extra seconds of loading dishes in the dishwasher (which she has also started helping out with).
Do your kiddos help out with mealtime?